Corporate sustainability and ESG specialist ESG Core purchased a minority stake in ComLab Communications Consultancy reuniting a team of senior advisors. ComLab aims to play a leading role in communicating the ESG transformation of companies in the Central and Eastern European region.  ComLab will also focus on providing communication support for the execution of Net Zero 2050 plans, but it will not accept assignments from the fossil fuel industry.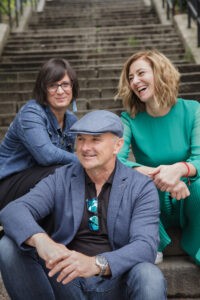 Founded by Attila Schillinger, ESG Core is an international consulting firm dedicated to help clients activate sustainability transformations and prepare for leadership in a new post-consumerist economy. It was more than a decade ago when Schillinger and ComLab founders Dóra Császi and Krisztina Csajkovszky worked together at a leading Hungarian corporate communications consultancy. Most recently Schillinger was mentoring the founders of ComLab when they decided to take their relationship to another level becoming partners and co-owners. Earlier Schillinger was board director at consultancies The Rowland Company and Next Fifteen owned August.One in London and led the German subsidiary of Waggener Edstrom (WE). He was the head of The Association of Hungarian Brewers between 2014 and 2018. A lawyer turned Public Relations professional Schillinger graduated from the University of Oregon with a Masters degree in Conflict Resolution specialized in Climate Change in 2020. He started his ESG consultancy after a brief stint in the venture capital industry.
"Attila and I have already worked together in other contexts. He brings more than 20 years of strategic communications experience to ComLab.  ESG is an area growing in importance to corporations and we aim to play a leading role helping to communicate sustainability transformations," said Dóra Császi, CEO of ComLab. "We intend to bring about climate change in the communications market and create a broad partnership with forces focused on corporate sustainability. We want to catalyze the transition to a green economy," said Schillinger.
ComLab was established in 2013. The firm has a team of 18 professionals and services clients in technology, financial services, construction, food&beverage, hospitality and FMCG industries. It does not accept assignments from the fossil fuel industry. ComLab is based in Budapest, Hungary.